by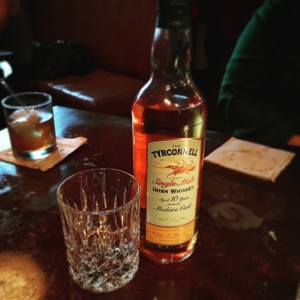 Tyrconnell Madeira Cask 10 Year Old Single Malt Irish Whiskey. Riverstown, Dundalk, Ireland. ABV: 46.0%. Tasted at The Wild Rover, $20.
Colour: Caramelised popcorn.
Nose: Exceedingly smooth, light and fruity. Strawberries and cream, rosewater, and soft candied oranges. Some very subtle aromas here, it's not a powerful punch at all.
Palate: Very subtle dried fruits on the mid palate that quickly fade. Tangy raspberry hints dance on the taste buds. Sweet woody notes, with a great balance between saltiness and sweetness.
Finish: Quite drying and woody. Very smooth as it glides down.
Comments: My colleagues Candice and Johad a taste, both are non-whisky drinkers who found it surprisingly easy enough to drink neat. For me there's plenty of interesting flavours and aromas to keep me interested too, so it seems to have struck a good balance of pleasing a variety of palates.
It reminds me more like a red wine finished whisky such as some of the Longrow wine cask finished malts, the Longrow Burgundy Wood or Longrow Red Cabernet Sauvignon (but without the peatiness). Which is a little unusual as they're Scottish malts, but hey I'm not geographically snobbish when it comes to whisk(e)y…I'll drink it from anywhere!