by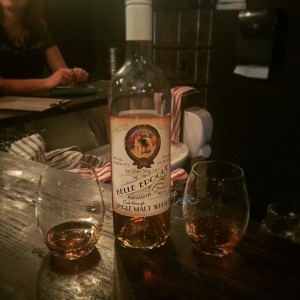 Dobson's Belle Epoque Cask Strength Single Malt. New England Highlands, New South Wales, Australia. ABV: 60.0%. Tasted at Saint John Craft Beer Bar (Launceston, Australia), $15.
Happy 'Straya Day! Being our national day and celebration of all things Australian, it's only appropriate that we take a look at an Aussie whisky. I came across this bottle of Dobson's Belle Epoque at a craft beer bar in Launceston, Tasmania.
Colour: Burnt copper.
Nose: Lightly peated with a slight nose prickle. Almost some meaty peat aromas; like sticking your nose over a pot of fresh bolognese sauce cooking on the stovetop, but with a hint of sweetness as you pull your nose away.
Palate: Opens up on the mid & back palate then the heat slides down as your swallow. My mate Joel gets some burnt toffee notes; I get a spicy, peppery sweetness with some campfire smoke.
Finish: An extremely dry finish. Warmth tingles on the front of the tongue and the roof of your mouth.
Comments: I hadn't previously heard of Dobson's, which is understandable as it is a tiny operation located in the village of Kentucky NSW, about 5.5 hours drive north of Sydney and situated at Eastview Estate where they also have a winery, brewery, restaurant and speakeasy bar. And a spectacularly irreverant back story on their website (check it out here at http://www.eastviewestate.com/whiskey.html).
For such a small operation, this is a cracking whisky. Complex, with great depth of different flavours and mouthfeel, overall it's great drinking. I'd be keen to track down some more of this one.