by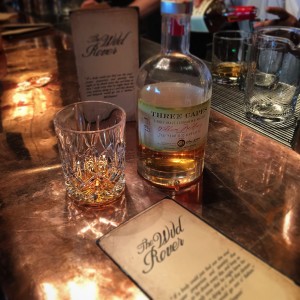 William McHenry & Sons Three Capes 10 Year Old Single Malt. Tasmania, Australia. ABV: 43.5%. Tasted at The Wild Rover, $17.
Colour: Light copper.
Nose: Quite a light nose; leather and toasted mash aromas.
Palate: Slightly sharp and a little tart. Much like one of my exes. Quite a thin mouthfeel.
Finish: A front and mid palate tingle lingers slightly longer than the flavours; straw and malty tones predominantly.
Comment: Distilled and aged at Tasmania Distillery (home of Sullivans Cove) on behalf of William McHenry & Sons. It's an easy drinking, inoffensive whisky but doesn't challenge your tastebuds. It's the whisky equivalent of of a crisp, clear and very light lager. Not a bad way to start the evening, but you're probably not going to stick with it all night for the rich flavours.
A shout out to the guys at The Wild Rover (especially for the judicious placement of the menu in the pic above!). A great whisky list and great chatting to you!