by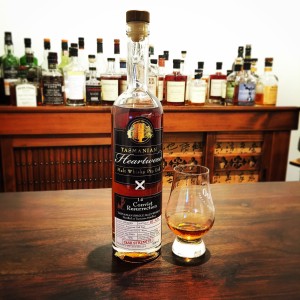 Heartwood Convict Resurrection 14 Year Old Cask Strength Tasmanian Single Malt. Tasmania, Australia. ABV: 72%. Tasted at home, $230 (bottle).
A deeply contemplative dram…
Colour: Luscious, syrupy maple.
Nose: Like a chord hammered out on a Hammond organ, minor fifths and sevenths going everywhere. There's a cacophony of notes that seep into your consciousness at different times as the aromas float into your head.  A certain tension, but they are deliciously balanced and bring a smile to your face. Caramelised pineapple cooked on a BBQ, freshly baked carrot cake or even a hint of honey cake. Freshly hewn sawdust, musty bookshelves and lemon sherbet.
Palate: Rich, full and a mouth-tingling warmth. This is big. Sticky date pudding balanced out by a sharp heat and spiciness; like a lamb korma that bites initially, then the sweetness and spices take turns at dancing on your tongue. Mid and front palate get all the fun. A hint of tart raspberries.
Finish: Sweet and very long, as you might expect from a whisky at 72% ABV. Rich, intense sweet notes, like some treacle on warm damper with melted butter.
Comment: Distilled in March 2000, decanted December 2014, gracing an ex American oak port cask with its presence in the interim.
This is a whisky of contrasts. The kind of dram that you pour when you get home after a manic day at work. The kind of day when you just want to give a two-fingered salute to the world, drift away and switch off while listening to some jazz, with the 72% ABV and comforting flavours enveloping you and bringing you into its embrace. Miles Davis "Kind of Blue" is my choice of accompaniment tonight; a timeless classic and one of my favourites.
It's also the kind of whisky that you pour if you want something complex and layered to analyse and enjoy.  The sheer delight you get when a whisky makes you go back and pour another couple of drams just so you can keep enjoying it and getting to know it at a deeper level.
Yet it's also one of those whiskies you pour when you feel like being a bit contemplative. The kind when you're feeling a bit down, when you're reminiscing. The whisky when you're thinking about where you want to head in life; a whisky when you're thinking about the long lost love who lives on the other side of the country and you wonder every day what might have been had circumstances been different and whether you'll ever see her in the future.
For me tonight, it's been all of those things.