by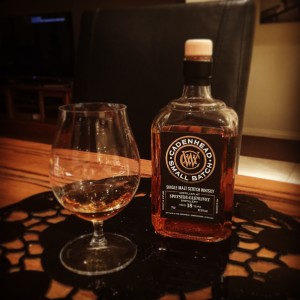 Cadenhead Small Batch Speyside-Glenlivet 18 Year Old Cask Strength Single Malt. Speyside, Scotland. ABV: 62.80%. Tasted at my mate Joel's place, $0 (ah it's great to have good mates with nice whisky!).
Colour: Bright toffee.
Nose: Like a not-so-gentle tug on your nostril hairs, this one wants to rip out all unnecessary olfactory distractions and dominate your attention. Freshly cooked toffee, caramelised balsamic, creamed cheese and a hint of straw. It's a big nose.
Palate: A satisfying tingle as the whisky dances around your mouth. Joel got toffee and peanut brittle, while I detected some tart raspberries. There's almost a dusty sweetness; think salted caramel macaroons.
Finish: It's a drying finish, slowly fading from the centre of your palate to the extremities. Very long, which is unsurprising given the high ABV.
Comments: It's interesting – Joel thought the nose sweeter than the palate, I also got loads of sweetness and also some straw notes. Yet looking back on what we got on the palate there's a fair bit of sugar too. In hindsight it's a rich sweetness, definitely not saccharine. It's rich and full bodied, lots of complex flavours without any of them dominating. One of those whiskies to enjoy sitting back and appreciating as it offers something different, especially as an independent bottling it's quite different to your typical company-released Glenlivet.