by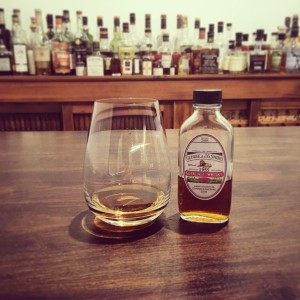 Glenlivet 1955 George & J.G. Smith's Gordon & MacPhail 50 Year Old Single Malt. Speyside, Scotland. ABV: 40%. Tasted at home, $225 (100mL bottle split). No, that wasn't a typo…$225.
Colour: Golden syrup.
Nose: In a word, astonishing. It's so delicate; like gently brushing your nose with a feather. Rose water, raspberry marshmallows, orange chocolate, warm caramel and a hint of cigar box. I've been just enjoying this nose for about five minutes now, words are failing me, it's taken me away. I'd better take a sip!
Palate: Dry mouthfeel, with dusted cocoa and some soft oak. You can taste the influence from the sherry cask but it's not a rich full frontal sherry bomb, nor is it overly creamy. Front and mid palate get all the fun.
Finish: Fades quickly to start, then the flavours linger ever so softly on the front and mid palate for quite a long time. Some slightly tart dried tropical fruit flavours emerge right at the end, mainly dried pineapple. Quite a soft finish overall.
Comments: Absurdly priced, but then again this is a 50 year old whisky (distilled in 1955, bottled in 2005). Along with some of my fellow whisky nutters from Dram Full Perth, we decided to splurge and grab a bottle of this and split it 7 ways. Which is more financially responsible than dropping $1575 on a whole bottle and keeping it all to yourself. Yes, I'm trying to justify this purchase as being financially responsible…
The nose was stunning, right up there with some of the best I've had. I felt the palate and finish though left a little to be desired. They weren't poor by any stretch, I think they were simply overshadowed by an exceptional nose. It's not every day you get to drink a 50 year old whisky, so overall this was a special experience.