by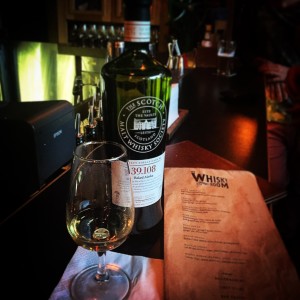 SMWS 39.108 Baked Alaska.  10 year old single cask from Linkwood Distillery. Speyside, Scotland. ABV: 61.7%. Tasted at The Clock Hotel's Whisky Room, $0 – a welcome dram to celebrate Dram Full Sydney's 2nd birthday.
Colour: Pale golden straw.
Nose: An amorphous nose, it seems to change in waves with different flavours each taking turns at coming to the fore. Light and fruity on the nose, yet quite sweet.  Chunks of dried pineapple. My Dram Full compatriot Garry described it as like orange brûlée. On top of the fruity notes, other aromas include ginger nut biscuits and caramelised condensed milk.
Palate: Sharp thin grassy notes on the front of the palate, as the waves of sweetness break like a bow wave around the outside of the mouth, leaving a syrupy coating. Creamy sweet mouthfeel.
Finish: Medium length yet a warming mouthfeel. Tingles on the front gums as the flavours linger on the mid palate.
Comments: The nose really reminded me of a Glenmorangie Nectar D'Or, yet more intense and focused. A Nectar reduction perhaps? This Linkwood certainly didn't drink like a whisky at around 61% ABV, it was much smoother yet packed a big punch in terms of flavour, aroma and length. Which is what you want from a whisky.
A gathering of whisky fiends from Dram Full Sydney to celebrate Dram Full's 2nd birthday. We are very fortunate in Sydney to have Andrew Derbridge, Cellarmaster & Director of The Scotch Malt Whisky Society in Australia (not to mention author of a fantastic whisky blog Whisky & Wisdom), as one of the main driving forces behind Dram Full in Sydney. Andrew very generously brought along this SMWS bottling for us Drammies to have a welcome drink before we got stuck into the Clock Hotel's extensive range of whiskies. A cracking night was had, fantastic to catch up for an informal drink and meet other whisky fiends and talk bullshit about all things whisky.