by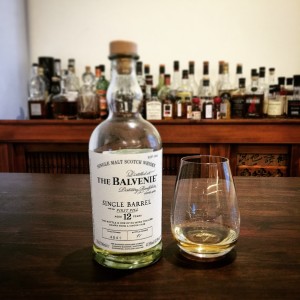 The Balvenie Single Barrel First Fill 12 Year Old Single Malt (2015 bottling). Speyside, Scotland. ABV: 47.8%. Tasted at home, $130 (bottle).
Colour: Crisp apple juice.
Nose: Reminds me of lemon frosted cake icing; sweet and creamy with a citrus tang.
Palate: Fruit juice concentrate – lots of sweetness but intense citrus (mainly orange and lemon) and tangy passionfruit. Medium bodied in flavour, lush creamy mouthfeel.
Finish: The warmth slowly builds, but doesn't completely take over. Plenty of oak and honied pepper notes in the fade. Medium length.
Comments: It's the kind of whisky you can pour when you've had a hectic day/week/month and you just want to relax. It's strong enough that it packs some punch and demands your attention, yet the flavours are deliriously tasty that you can slide back into a comfy lounge, put on your relaxation music of choice and let the day's worries slip away.