by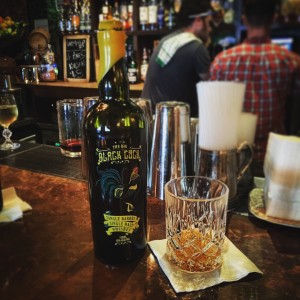 The Big Black Cock Single Barrel Single Malt Whiskey. ABV: 43%. Atherton Tablelands, Queensland, Australia. Tasted at The Wild Rover, $15.50.
Happy Mardi Gras weekend everyone! In keeping with the theme, please strap yourself on, I mean in – strap yourself IN – for a pun-tastic review of the Big Black Cock…
Colour: Spray tan orange. The eyes widen, it certainly looks like a mouthful.
Nose: It's light; an almost bourboni-ish sweetness. Honey and butter on toasted white bread.
Palate: Contrary to conventional wisdom, it's quite short on the palate. Malty sweetness, some cereal notes, a touch of hay. Somewhat surprisingly, it's not a very big mouthfeel. Goes down easily though.
Finish: Short. Not something I thought I'd be saying about a big black cock.
Comments: You think it'd be bigger, maybe hurt a little as it slides down your throat. But it's surprisingly easy to take.
Made in Far North Queensland in the Atherton Tablelands, from Queensland sourced malted barley and aged for 5 years. It's a daring choice of name for a whisky, perhaps not one you'd tell your mum about. But you'd certainly brag to your friends about that one time you tasted it…