by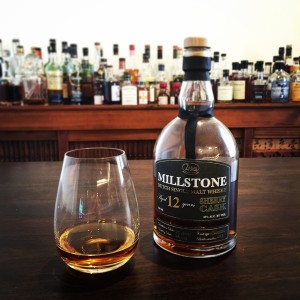 Zuidam Distillers Millstone 12 Year Old Sherry Cask Single Malt. The Netherlands. ABV: 46%. Tasted at home, $165 (bottle).
The Friday night pre-date dram…
Colour: Deep caramel.
Nose: Rich toffee, dried muscatels, cabernet paste, a musty old bookcase filled with leather-bound books…you just want to inhale it for days. Or watch Anchorman again so you can recite more Ron Burgundy quotes and drink whisky.
Palate: Sherry and juicy stone fruit flavours explode on the palate, like you've just taken a bite of the juiciest plum. A cool oily mouthfeel; the oak is delicately balanced with some creamy sweetness and a hint of tartness. It reminds me of a pink sherbet-coated soft serve ice-cream cone. Amazing.
Finish: The fruit and sherry flavours drop off initially, leaving behind the soft oak and caramelised toffee notes that ever so slowly fade. It's a long and gentle finish, lingering much longer than expected. Which is absolutely fine by me.
Comments: I thought seeing as it's a first date tonight, I might need some Dutch courage. As it happens, the Zuidam was the only Dutch whisky in my collection! My date this evening is cheeky, confident and more than a little outspoken, so I thought the Zuidam might be appropriate as it shares some of those qualities. If she is as sweet, tasty and lingers long at the end of the palate like the Zuidam then it could be a good match!
This was another one of the whiskies I selected as part of my "Rebuilding a Whisky Collection – The $1000 Challenge" a little while back.  I selected it as it was unusual (I'd only tried one other Dutch whisky previously), and it also ticked the sherry matured box. It was awarded "World Whisky of the year" by Whisky Advocate Magazine in the USA 2013, as well as 95 points from Jim Murray in his 2015 Whisky Bible.  I respect but don't always agree with a lot that the man in the hat writes about, but on this one I think we're in agreement – it's a fantastic drop.