by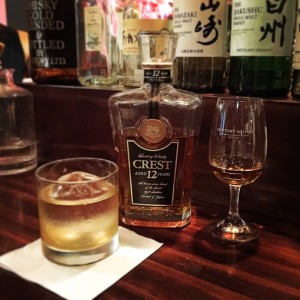 Suntory Crest 12 Year Old Blended Whisky. Osaka, Japan. ABV: 43%. Tasted at Tokyo Bird, $22.
Colour: My good mate Damo (his dram with the ball of ice) described it as topaz. When asked if he would say a lustrous, sparkling topaz, his response was "Only if you blow bubbles in it."
Nose: Buttery; caramelised figs, some creamy sherry notes. Very soft and velvety.
Palate: Burnt caramel, quite meaty. Savoury almost but counterbalanced with sweetness, like caramelised onions cooked on the BBQ with balsamic. Smooth entry, medium bodied.
Finish: A drying finish with gentle spice and cinnamon sugar; a long, slow gradual fade.
Comments: It's Suntory time, and I like it! A lot more depth of character than other blends, particularly some Japanese blends. I'd be keen to get my hands on a bottle of this to add to the collection. It was my first time checking out Tokyo Bird in Surry Hills, very impressed with their range of Japanese whisky.
I'll leave you with this gem, a Suntory Crest ad from 1992. If a whisky gets Sean Connery's tick of approval, it must be decent…or perhaps the marketing budget had deep pockets. He doesn't say a word, just a cock of the left eyebrow and a knowing head nod to your Doberman are all that's required to indicate your enjoyment apparently. Gold.