by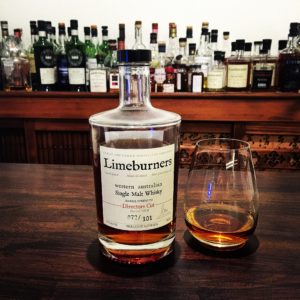 Limeburners Directors Cut M134 Barrel Strength Single Malt (bottle 072 / 101). Great Southern Distilling Company. Albany, Western Australia, Australia. ABV: 61%. Tasted at home, $280 (bottle).
Colour: Deep copper.
Nose: Creamy treacle, burnt caramel (think creme brûlée), cloves, dates.
Palate: A melting pot of lusciousness…tingly caramelised pineapple fried on a BBQ. Sweet moist fruitcake. Dark chocolate truffles with rich caramel oozing out as you bite in. It's a big burst of flavour with a lovely oily mouthfeel, like you've bitten into one of those Starburst lollies with the liquid centre. This is amazing stuff.
Finish: Long and slow in the fade. Buttery white toast with golden syrup…flavours I've enjoyed from other Limeburners whiskies matured in ex Australian Muscat barrels like this one.
Comments: Arriving home after working a weekend on what's shaping up to be a 70 hour week, a cask strength whisky was definitely order of the day. The neighbours for some reason were playing Michael Bolton loudly, which only served to cause further irritation.  Returning serve with some vintage Pendulum cranked up really loud, I was inspired to pair some West Australian music (Pendulum) with some fine cask strength West Australian whisky. What a glorious combination to take the edge off what has been an insane week.
Limeburners have long been one of my favourite distilleries, not just amongst the many fine Australian distilleries but globally.  They really punch above their weight and produce some fantastic whisky, so it's no surprise to see them take out the trophy for the 2016 Champion Distiller at the Australian Distilled Spirits Awards earlier this month. Here's to founder Cameron Syme and distiller Ben Kagi, another sterling effort gents.