by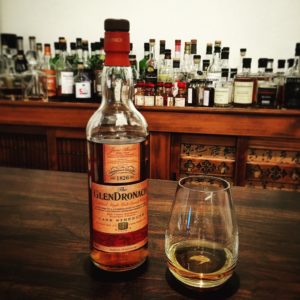 Glendronach Batch 3 Cask Strength Single Malt. Highlands, Scotland.  ABV: 54.90%. Tasted at home, $162 (bottle).
Seeing as Saturday was World Whisky Day, I decided that was a good a reason as any to lash out on a new whisky. I got home and cracked it open with intentions of doing my review, but I was enjoying it so much I dared not ruin the moment by over-analysing it. So I sat back, poured a second dram (ok…and a third), and here I am two days later, doing a belated World Whisky Day review.
Colour: Brilliant bronze.
Nose: Buttery toffee, strawberries & cream, raspberry sticks of rock. A tangy raspberry note too; it's not all sweetness.
Palate: Creamy orange liqueur, sweet oak and hints of chocolate. It's not the syrupy sherry bomb that one might expect from Glendronach (especially a cask strength release), it's far more nuanced yet still recognisable.
Finish: A gentle long, warm finish with hints of muscatels, dark chocolate and dried raspberries.
Comments: This really is a whisky you can pour, sit back in a comfy chair, put on some background music and let the cask strength flavours ease your troubles and take your mind off all life's worries. It's effortlessly drinkable; full flavoured yet smooth. It's not a dram for those taking their first steps into the wonderful world of whisky as it's possibly a little intense. But for those who love the house style of Glendronach or who appreciate a cask strength dram that gradually reveals layers of flavour and aroma with each sip, this is a ripper. Recommended.