by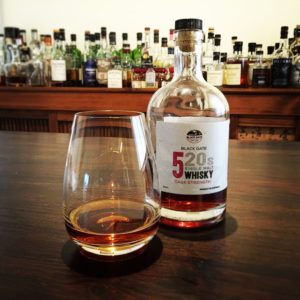 Black Gate Distillery 5 20s Cask Strength Single Malt. New South Wales, Australia. ABV: 67.00%. Tasted at home, $195 (500mL bottle).
It's a cold, windy and rainy afternoon here in Sydney today. Today's sailing race has been abandoned due to dangerous conditions. So…perfect weather for staying indoors with a cask strength whisky! And what a cracker this is…
Colour: Deep treacle.
Nose: A satisfying nose prickle. Very complex, lots of rich sweetness; raisins, treacle, and (somewhat strangely) blackcurrant Soothers. A campfire burns in the distance.
Palate: A rich and full mouthfeel. Imagine a smoked golden syrup, or smokey salted caramel. Caramelised balsamic onions that have been baked with a Sunday roast – a perfect balance of rich savoury and sweet notes.
Finish: Ridiculously long. The syrupy flavours subside leaving a rich, smokey and salty tang in the fade.
Comments: Distilled in September 2013 and bottled in December 2015, this is a very young whisky – but fortunately with Australia's climate variations whisky tends to mature a lot more quickly than whiskies from other parts of the world where the variation in temperatures are less pronounced. The scientist in me would love to take the same new make spirit, place it in (as near as possible) identical barrels, and then send them to four corners of the earth and see how the whisky matures, both in terms of flavour variations as well as maturation times.
But back to the Black Gate. The "5 20s" in the name refers to the five twenty litre casks that were vatted together to produce the 159 bottles of this release. A limited release, and one that they've put out to market as soon as it is legally becomes whisky. However, with the small cask sizes turbo-charging the maturation by increasing the wood-to-whisky ratio, it tastes a lot older.
Amazing complexity and flavour profile, this is a whisky that is perfectly suited for a cold rainy afternoon.