by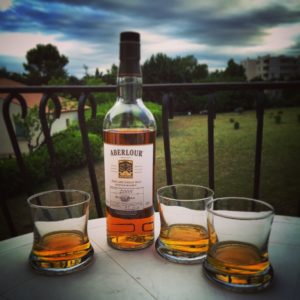 Aberlour 2005 White Oak Single Malt (bottled 2015). Speyside, Scotland. ABV: 40%. Tasted at my friend Corey's place in Montpellier, France, €29 (bottle).
Colour: Golden amber.
Nose: Orange peel and burnt butter. My mate Brett got mainly citrus notes.
Palate: Unlike Brett's last Tinder date, it's not very big bodied. Quite light on the palate, there's some soft toffee notes along with lots of white pepper and oak.
Finish: Peppery spice and biscuit flavours, medium length. A warm tingle lingers longer.
Comments: It's quite pleasant but definitely not as rich, creamy or fruit driven as many other Aberlours I've tried before. Certainly very drinkable, but not as satisfying as some other higher ABV Aberlours. Cracking value for money though, I wish we could get whisky this cheaply in Australia.
But this is a perfect mid afternoon dram, a nice little warm up before heading up to watch the finish of today's stage of the Tour de France. Not a bad way to enjoy a sunny afternoon in the south of France.