by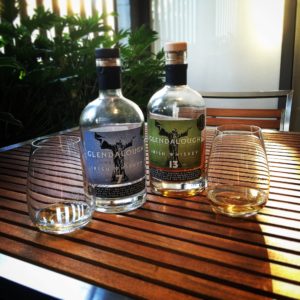 A taste-off between two single malts from Irish new kid on the block, Glendalough. Founded in 2011 by a group of mates, this craft distillery has been able to release a 7 year old and 13 year old courtesy of private label whiskey produced by Cooley Distillery for independent bottlers. A fantastic way to get a unique product to market whilst    producing and maturing their own craft whisky (amongst other spirits). Both were aged in first fill ex-bourbon casks, I thought it would be interesting to do a side by side comparison.
Whisky #416: Glendalough 7 Year Old Single Malt Irish Whiskey. Ireland. ABV: 46.00%. Tasted at home, $110 (bottle).
Colour: Pale gold.
Nose: Light and citrusy, fresh baked biscuits and a hint of dusty leather. Sounds like a weird combo, but it works.
Palate: Rich honey and a hint of pepper. Intense fruit driven sweet flavours, like sucking on a boiled lolly – think lemon, raspberry and lime.
Finish: A punchy oak and sweet finish, driving straight down the mid palate. Cigar notes in the fade. Medium length for the flavours, but a very subtle warmth lingers longer.
Whisky #417: Glendalough 13 Year Old Single Malt Irish Whiskey. Ireland. ABV: 46.00%. Tasted at home, $135 (bottle).
Colour: Slightly darker gold than the 7 year old. Not as big a difference as I was expecting given it has spent almost twice as long in casks.
Nose: A more fragrant, floral nose than the 7. It's now more syrupy; with toffee and golden syrup notes.
Palate: Toffee and intense fruit syrup – think raspberry coulis and passionfruit syrup, laced with hints of oak and warm vanilla spice. Richer and creamier and than the 7.
Finish: Some soft but tangy raspberry and citrus notes.  The oak is much softer than the 7 year old, allowing other flavours come to the fore.
Overall comments: The 13 year old Glendalough was another one of the whiskies I selected as part of my "Rebuilding a Whisky Collection – The $1000 Challenge" a little while back.  I selected it as my Irish malt for the collection and had heard great reviews. Having had both bottles on my shelf for some time, I found myself naturally gravitating to the 7 year old more often than the 13. I find the 7 year old a supremely easy whisky to drink; it's smooth, bags of flavour and is certainly not one dimensional. However, the 13 year old expression is richer and more refined, bold yet elegant. I'd recommend both, though I'm keen to try some of Glendalough's own distilled single malt when it eventually gets released. It will be interesting to see how similar their single malt is compared to these that they've matured but acquired from another distillery.