by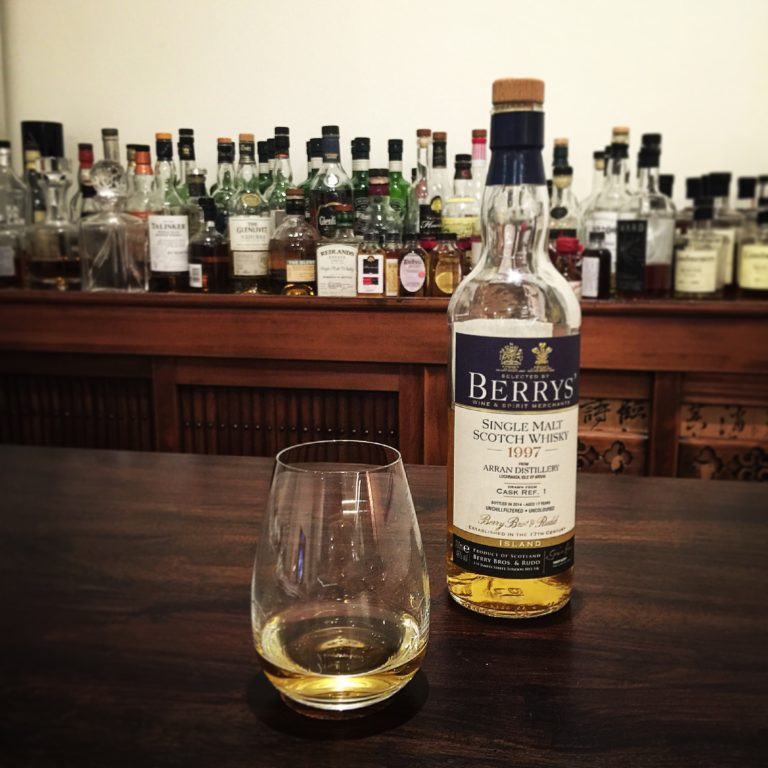 Berrys' 1997 Arran 17 Year Old Single Malt (Cask Ref. 1). Isle of Arran, Scotland. ABV: 46%. Tasted at home, no idea how much I paid…a jet lag impulse purchase when coming through Dubai airport.  Not too outrageous if I recall correctly, maybe around $100.
Colour: Olympic gold.
Nose: Light and delicate; pineapple, freshly lacquered timber furniture. Cereal notes too – like sticking your nose into a new box of muesli, some oats along with some light fruity notes.
Palate: A very crisp entry with a light touch on the palate. It feels like it effortlessly glides over your tongue, teasing you with some sweet lemon sherbet and tangy passionfruit notes.
Finish: Medium length with a light salty lemon tang, followed by some honey and white pepper notes to finish.
Comments: I picked up this bottle as I'm a huge fan of Arran whiskies and I thought I'd not tried a Berrys' bottling of Arran before. As it turns out, quite some time ago with Whisky #284 I had tried a very similar bottling, the Berrys' 1997 Arran 16 Year Old Single Malt (Cask Ref. 2). The night in question where I tried Whisky #284 turned out to be a rather large one at Whisky & Alement whilst visiting one of my best mates AB in Melbourne, so it's not a surprise my memory was a little sketchy.
Despite this expression having one more year's maturation, the brief tasting notes we made that night seem to suggest some similarities between the two releases, hardly surprising given both releases had similar barrel maturations…transferred from bourbon casks to ex Marsala casks during the latter stages of their life in the warehouse.
A nice easy drinking drop that allows some of the Arran house style to shine through whilst also offering something different to the distillery bottled releases.