by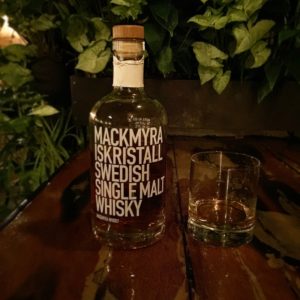 Mackmyra Iskristall Swedish Single Malt. Valbo, Sweden. ABV: 46.1%. Tasted at Norsk Dor, $24.
Today's whisky sees me exploring a Swedish dram for the very first time. It's only fitting seeing as I'm dining at Norsk Dor also for the first time, a Scandinavian restaurant set in a basement below Pitt St in downtown Sydney. It's a restaurant that prides itself on setting a daily menu based on the best produce they can find on the day, much like the ethos of Whisky a Day when it comes to sourcing new and exciting drams. So after a fantastic set menu (the Wagyu bone marrow on rye was a standout), a cocktail and a couple of wines, it's time to explore some Swedish whisky…there are about five Mackmyras behind the bar, but tonight the choice is the Mackmyra Iskristall.
Colour: Golden orange.
Nose: Buttery shortbread biscuits; it reminds you of Christmas.
Palate: Smooth entry, malty and slightly salty citrus with a nice sweet balance. Light mouthfeel, some creamed honey flavours in there too.
Finish: Quite a dry, oaky finish. Medium length, but a gentle sweet lemony tingle on the gums. Particularly noticeable on the upper gums in front of my teeth for some reason.
Comments: A very approachable whisky. It's not overly complex, but to draw an analogy to white wine it drinks quite light, fresh and crisp. Much like some of the flavours on the menu at Norsk Dor really. Mycket trevligt!