by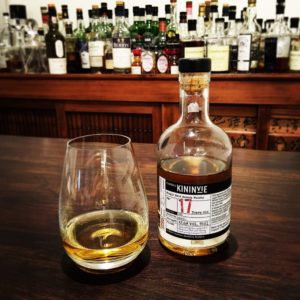 Kininvie 17 Year Old Single Malt (Batch 001). Speyside, Scotland. ABV: 46.2%. Tasted at home, $155 (375mL bottle).
No comments about the size of the dram compared to the size of the bottle (in my defence it's only a 375mL bottle!)…it's just been one of those weeks. Dave Brubeck Quartet and Sonny Rollins are the soundtrack this Thursday evening, it's time to unwind.
Colour: Solid gold.
Nose: Honey and floral notes. Sweet and rich.
Palate: Subtle sweetness, malty biscuits with a hint of lemon sherbet.
Finish: A drying, tangy sensation on the front of the palate. Medium length.
Comments: Phenomenonally easy to drink. So much so that I got distracted from doing this review and emptied my glass without realising. Better pour another bucketo of whisky…
Perfectly balanced in terms of ABV and flavour, this is a whisky that will appeal to a broad spectrum of whisky drinkers. Distilled in 1996, then matured for 17 years in a combination 80% American Oak, 20% Sherry Cask. The Kininvie 17 is a travel retail exclusive…and good enough to start planning my next overseas trip so I can pick up another bottle. Recommended.