by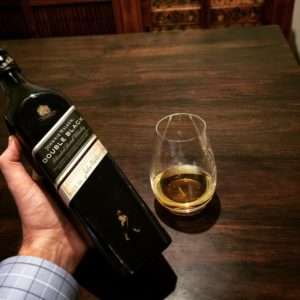 Johnnie Walker Double Black Blended Scotch Whisky. Edinburgh, Scotland. ABV: 40%. Tasted at home, $55 (bottle).
Peat Week, Day 3. Why should the single malts get all the peat? The Johnnie Walker Double Black is a blend with plenty of peat.
Colour: Light copper.
Nose: A little uninspiring; it's a very light nose.  A hint of smoke and some sweet oaky notes, but you've really got to work hard to get many aromas.
Palate: Exceedingly smooth entry, an oily mouthfeel yet quite thin on the palate. Soft smoke and creamy woody notes – a bit like sucking on a ice cream stick after you've finished the ice cream.
Finish: Butter menthols and a gentle smokey fade, medium length.
Comments: Contrary to popular misconception, the Double Black is not merely the next step up in class from the Black Label in the Johnnie Walker range. While it is built upon a similar base to the Johnnie Walker Black Label, the Double Black adds peated Scottish west coast and island whiskies, some aged in casks that were deeply charred.
I found it to be a very lightly peated and somewhat lightly flavoured dram, yet very easy to drink. The kind of whisky you could drink and enjoy on auto-pilot when you get home from work. Perhaps not unsurprising for a blended whisky at 40% ABV and priced so keenly at $55 /bottle.
But in that respect it does have a place in your whisky collection. If you're on a tight budget or are taking your first few tentative steps in exploring peated whisky, this is a good way to dip your toe in the water. Ditto if you want a cheap quaffing whisky for midweek drams, or for those friends who come around and you don't want to pour a dram of your $300/bottle Bruichladdich Octomore Edition 6.3 Cask Strength Single Malt. Overall, a respectable whisky to have on hand, but certainly not one to race out and have at all costs.