by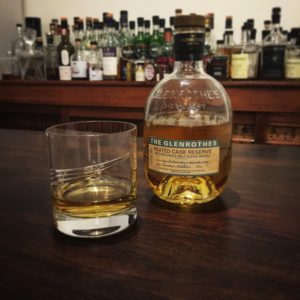 The Glenrothes Peated Cask Reserve Single Malt. Speyside, Scotland. ABV: 40%. Tasted at home, $130 (bottle).
Continuing the theme of peated whisky, for Day 4 of Peat Week I've again chosen a slightly different style of peated whisky…a Speyside peated expression from Glenrothes. It's not actually peated spirit, but rather the whisky was finished by maturing for a short time in ex Islay casks.
Colour: Dull gold, unpolished.
Nose: A very light nose; oaky lemon notes, but it's extremely subtle. Also quite fresh – a bit like when you tear off some fresh leaves from a plant.
Palate: Juicy mouthfeel with a biscuity sweetness. Like taking a bite of an Arnott's Nice biscuit, the ones with the sugar on top. Some citrus flavours too, like a ripe juicy mandarine.
Finish: Some gentle smoke finally appears, but again it's very light. A drying, woody finish.
Comments: It's quite lightly peated, in fact I found myself almost searching for some peat at times just because I know it's a peated whisky. If you're looking for a big, peaty, smokey whisky – these are not the drams you're looking for. But as a slightly different twist on your typical Speyside style, it fits the bill. I'm not convinced that at $130 it presents great value, but it is certainly a very easy drinking whisky. Though I'd be much more inclined to grab a bottle of Monkey Shoulder at $55 a bottle for a somewhat similar flavour profile (but without the peat). It's ok, but unfortunately doesn't reach any great heights.