by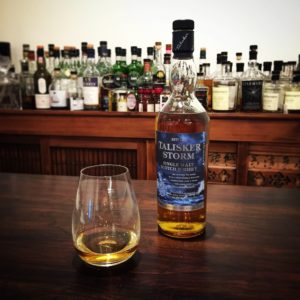 Talisker Storm Single Malt. Isle of Skye, Scotland. ABV: 45.8%. Tasted at home, $85.
Day 5 of Peat Week at Whisky a Day sees us return to more familiar climes, this time docking our tastebuds on the shores of the Isle of Skye on the Scottish west coast to check out the Talisker Storm.
Colour: Luscious Amber.
Nose: Sea salt and hessian sacks. Some soft woody notes and a touch of caramel fudge.
Palate: Butterscotch and smokey creaminess in flavour, but it's not a creamy or oily mouthfeel. It's a smooth entry, but quite thin on the palate.
Finish: Quite a drying finish, some lovely creamed honey flavours and a soft smokey fade.
Comments: A No Age Statement (NAS) release, this is really quite enjoyable. At 45.8% ABV it's nicely balanced, the flavour intensity is there and yet it's quite easy to drink. Not my favourite Talisker expression, but eminently drinkable and a great stepping stone into more heavily peated whiskies – be that in the one sitting, or if you're just starting to explore the peated genre.