by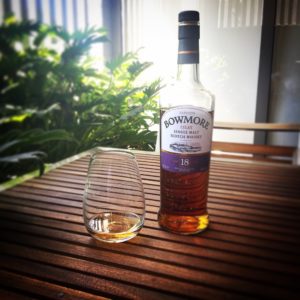 Bowmore 18 Year Old Single Malt. Islay, Scotland. ABV: 43%. Tasted at home, $185 (bottle).
As we near the end of Peat Week at Whisky a Day, we return to the centre of the peated universe – Islay – to savour the Bowmore 18.
Colour: Deep, sexy copper.
Nose: A delicate nose, yet lots of aromas. It has a rich, sweet smokiness – caramel, burnt toffee, and some faint smokey remnants of the campfire that was burning the night before.
Palate: Again a light smoke compared to many other Islay whiskies, which allows the other flavours to really dance on the tongue. Dried sultanas and raisins, freshly buttered fruit toast, rich treacle, dark chocolate with a high cocoa content (the ones so high the chocolate is quite earthy).
Finish: A long finish, with caramel fudge and some oaky tannins in the fade. The salty tang in the fade is subtle yet bookends some of the soft sweeter flavours tasted earlier.
Comments: The peat is more apparent in the finish on this whisky, enabling the enjoyment of so many other delicious flavours. It really is a layered, nuanced dram – one you can easily sit back and contemplate on. So easy to drink, even on a sunny spring afternoon like I'm doing right now. Recommended.