by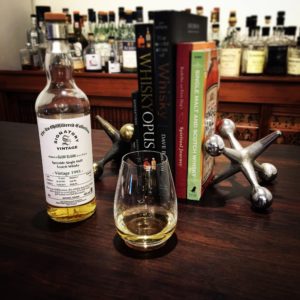 Signatory Vintage Glen Elgin 1995 19 Year Old Single Malt (The Un-Chillfiltered Collection). Speyside, Scotland. ABV: 46%. Tasted at home, $116 (bottle).
Colour: A glimmer of the weekend, a bright beacon of light shining through the glass. Geez it's been a long week.
Nose: Fresh nougat, freshly sawn timber. A slight nose prickle.
Palate: Crisp mouthfeel as you take the first sip; slightly peppery yet with some oaky vanilla notes. Drier rather than creamy, but smooth to start.
Finish: Strawberry jam on fresh white toast. The mouthfeel is quite dry to finish, yet has some lingering sweetness. Medium length.
Comments: A great balance – loads of flavour if you fancy unpicking the layers, yet smooth and easy drinking with enough of a flavour and ABV punch if you just want to kick the feet up after a brutal day/week at work and relax with some music in the background. Leave me alone world, I've got to unwind. Delightful.