by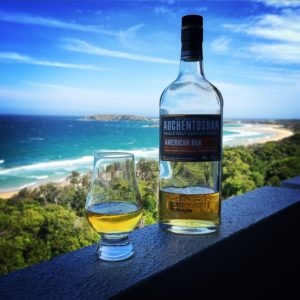 Auchentoshan American Oak Single Malt. Lowlands, Scotland. ABV: 40%. Tasted with my mate Ryan at his place, $60 (bottle).
Colour: Golden sands.
Nose: Very light; oaky, honey on fresh white toast. A typical bourbon cask nose.
Palate: Thin yet creamy mouthfeel. Honey and soft hay-like notes.
Finish: Soft tangy pineapple and citrus notes. Short to medium finish, hints of oak.
Comments: It's a light, summery dram – a real daytime, beachside sipper that drinks easily at a low 40% ABV. It's not overly complex; pleasant without being spectacular.  But when you're on holidays sometimes you just want to relax and not think too deeply about anything, much less overanalyse the whisky in your glass. Just sit back, relax, take a sip and enjoy the view.