by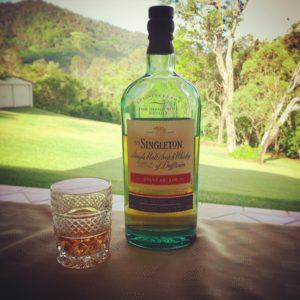 The Singleton of Dufftown Spey Cascade Single Malt. Speyside, Scotland. ABV: 40%. Tasted at my aunt & uncle's place, $52 (bottle).
It's a stinking hot day in Brisbane, I'm visiting family for the weekend. Given the hot weather, another quite light dram is on the cards today – light both in flavour profile and ABV. It's a summery whisky.
Colour: Syrupy gold. "Amber – like the insects stuck in amber from Jurassic Park"…says my sister with both her movie and fashion taste stuck in the 90s.
Nose: Dried apricots, quite light. Dad got fresh bandaids – the old fella may be onto something here.
Palate: Thin on the palate, cooked mash and cereal flavours abound. Quite a dry mouthfeel.
Finish: Spicy; think white pepper. Dad described the sensation as being like having a spearmint breath mint followed by having a few mouthfuls of cool water. With some liquorice thrown in.
Comments: It's light, it's simple. It's the kind of whisky that doesn't command too much attention, which is a good thing when the day is so hot and humid you have to consciously think about preventing the sweat from dripping off your brow into your glass. It's pretty affordable too – a half decent quaffer, but it's not going to win any awards or keep your interest for too long.