by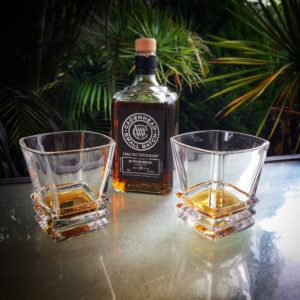 Cadenhead Small Batch Bunnahabhain 1976 39 Year Old Sherry Cask Single Malt. Islay, Scotland. ABV: 49.4%. Tasted at my good mate Brett's place for his 40th birthday.
Colour: Deep, dark toffee.
Nose: Fresh vanilla sponge cake. Some dusty bookshelf aromas. Sounds weird, but it's an aroma that I really enjoy about many quite old Scotch whiskies.
Palate: Smooth and creepy. No, that's Brett…I mean smooth and creamy. Toffee apples, both ones with fresh green apples and also the toffee apple chewy sweets you used to get as a kid. Later flavours of honey and butter on freshly baked white toast emerge.
Finish: It's a long and gentle fade. A dry tartness; oranges and raspberries with a delicate sweetness. Almost a slightly salty lemon sherbet tang as it tapers off.
Comments: To celebrate Brett officially beginning the downward slide into middle age as he turns 40, a few of us banded together to get him this fantastic whisky that was distilled in his birth year of 1976 and bottled after 39 years in 2016. One of only 648 bottles, it was matured in 3 sherry butts and bottled at its natural cask strength of 49.4%ABV.
Bunnahabhain may come from Islay yet their spirit is largely unpeated, certainly in comparison to its Islay neighbours such as Bruichladdich, Laphroig, Ardbeg etc.
Rich and delicate, this was one super smooth drop; not peaty at all. Complex and multifaceted according to Brett. It's outstanding, the kind of whisky you want to sit back and slowly sip with a good mate, you don't want to rush this one. The only rushing should be back to grab the bottle to pour yourself another dram…which I hope Brett remembers next time I come to visit!