by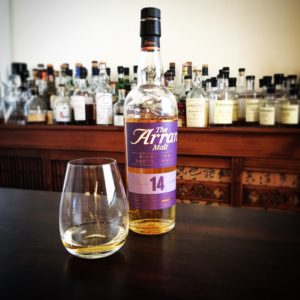 The Arran Malt 14 Year Old Single Malt. Isle of Arran, Scotland. ABV: 46%. Tasted at home, $110 (bottle).
Colour: Bright straw.
Nose: Lemon cheesecake, fresh sawdust on a workshop floor.
Palate: Tangy savoury notes; think lemon crossed with salt & vinegar chips (or crisps for you Brits). Quite a dry mouthfeel.
Finish: A salty finish, woody notes, a slight bitterness in the fade.
Comments: It's quite a decent dram, but not up there with Arran's usually high standards. I'm a big Arran fan as many long time readers may know, but this didn't really excite me.
Despite an extra two years' maturation, I didn't find this one as enjoyable as the The Arran Malt 12 Year Old Cask Strength Single Malt (Batch 5). Yes it's a lower ABV (46% versus 52.9% for the 12 Year Old Cask Strength), but it's just not as fruit driven or smooth, or just quite as "Arrany". Still eminently enjoyable, but my preference is definitely the 12 year old expression.