by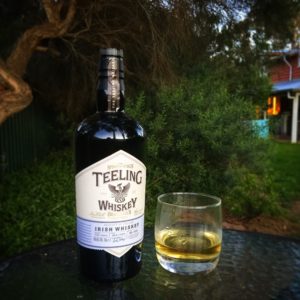 Teeling Small Batch Irish Whiskey. Dublin, Ireland. ABV: 46%. Tasted in Margaret River, $61 (bottle).
Colour: Rich golden apple juice.
Nose: Vanilla bomb. Black jelly beans. A slight nose prickle, but with a fresh green grass and pine needles.
Palate: Fresh hay and grassy notes; cracked pepper and honey. Quite thin on the palate.
Finish: New wood, white pepper and a subtle sweetness. A dry finish with the front palate getting all the flavour.
Comments: Finished for an extra six months in ex rum casks, though no mention of its overall age at bottling. Cracking value at only $61 for the bottle, it's a decent blend to start the night but not going to keep you enthralled for the whole night before you inevitably move on to a more full flavoured dram. Solid but not outstanding.