by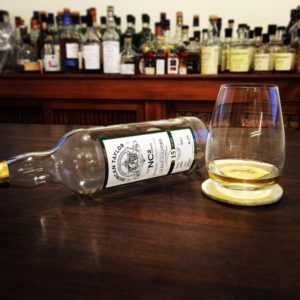 1996 Duncan Taylor NC2 Glentauchers 15 Year Old Single Malt. Speyside, Scotland. ABV: 46.0%. Tasted at home, $100 (bottle).
This was another one of the whiskies from my "Rebuilding a Whisky Collection – The $1000 Challenge" a little while back. As I was draining the final dram from the bottle, I realised that I'd yet to do a review…clearly I'd been enjoying this one. Not all in one sitting mind you…
Colour: Pale gold.
Nose: Sweet pineapple chunks, fresh baked lemon cake, pine needles.
Palate: Toasted malty and notes balance out beautifully with honey. Like biting into some seeded toast with honey and butter slathered on top.
Finish: Sweet brown sugar notes fade first, leaving a slightly nutty and woody finish. A salty tang as it fades away.
Comments: Light and delicate, this was very enjoyable. The type of dram you can easily sip without thinking about, or just as easily sit down and analyse in more detail (if you were so inclined). Very decent value at $100 for the bottle, I'd happily grab another.