by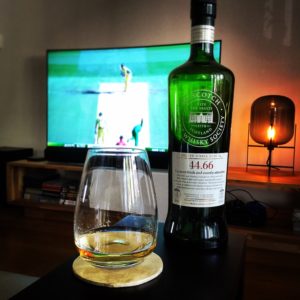 SMWS 44.66 Summer-Fresh and Sweetly Attractive. 11 year old single cask single malt from Craigellachie Distillery. Speyside, Scotland. ABV: 56.3%. Tasted at home, $179 (bottle).
Watching the cricket on a summer's afternoon, what more appropriately named whisky could there be other than "44.66 Summer-Fresh and Sweetly Attractive" from the Scotch Malt Whisky Society!
Colour: Australian gold.
Nose: Floral; freshly snapped branches. Some faint, sweet lemony notes too.
Palate: So light and easy to drink. Lemon meringue, lemon sherbet sweets – the kind that give you a burst of sherbet when you've sucked through the hard lemon sweet outside. Spiced honey, water crackers and freshly cracked black pepper.
Finish: A zesty tang, becoming a little saltier as the flavours fade.
Comments: This whisky was going down quicker than an Australian batting collapse. Fresh, flavoursome and bucket-loads of flavour – absolutely drinkable on a hot summer's day. I find Craigellachie whiskies generally to have lots of fresh floral and forest scents and flavours, while being extremely smooth and easy to drink (almost a cool sensation on the palate). This one certainly continues in that vein, recommended.