by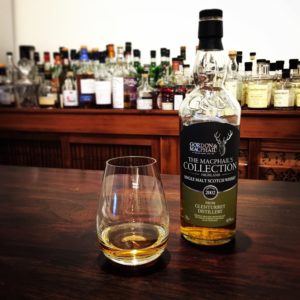 The MacPhail's Collection 2002 Glenturret Single Malt. Highlands, Scotland . ABV: 43%. Tasted at home, $128 (bottle).
Colour: Pale bronze.
Nose: Freshly baked raspberry muffins. Some sweet oaky notes too, like sticking your nose into a Muscat barrel.
Palate: A sweet (think brown sugar), creamy and oaty flavour. It really reminds me of having a hot bowl of porridge on a cold winter morning, drizzled in milk that's half dissolved the extra spoonfuls of brown sugar you've heaped on top when no-one is looking.
Finish: Some more of those delicious oak and dried fruit flavours in the fade; just think raisins and dried cranberries.
Comments: Silky smooth, this is a fantastic drop. It's got stacks of flavour yet is so easy on the palate at only 43% ABV. Glenturret Distillery lays claim to being one of the oldest in Scotland (I'm not going near that debate with a barge pole, or maybe a caber) so it's hardly surprising they know a thing or two about producing whisky. They're not a huge producer having only the one pair of stills, but on the basis of this drop I think I'll search out a few more Glenturrets.