by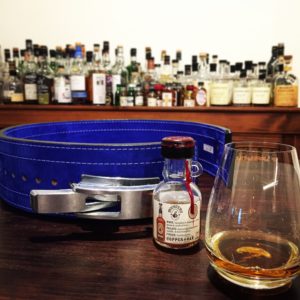 Michter's Toasted Barrel Finish Bourbon. Louisville, Kentucky, United States. ABV: 45.7%. Tasted at home, $27 (100mL bottle split).
One of my passions / hobbies apart from whisk(e)y is powerlifting. Today I received a new powerlifting belt in the mail, so I thought I'd have an American whiskey a go. What's the connection? Whiskey and Deadlifts. The guy behind it, Chris Duffin, is a top powerlifting athlete and strength coach who deadlifts over 900lb/400kg! I've got a looooong way to go to get to that level.
He's dedicated a heap of his training to exploring a theory that immediate effects of low-dose alcohol consumption can improve performance for the athlete. As I've got a powerlifting comp coming up in 12 weeks' time, I figured I'd better get on board and give it a crack. Though given I train at 5:30am most mornings before work I might have to do my research on weekends only…
Colour: Runny caramel.
Nose: Pine needles, fresh sawdust, and sour raspberry sweets – those long, chewy sticks coated in sugar.
Palate: Liquorice, aniseed and fresh fennel. Dryish mouthfeel.
Finish: Fresh toast, caramelised brown sugar and oak. Front palate action mainly.
Comments: Do you even lift bro??  This one was interesting – a fresh nose, dryish palate, followed by a sweeter finish. Definitely not your stereotypical saccharine sweet bourbon. Something different, and it's delicious.