by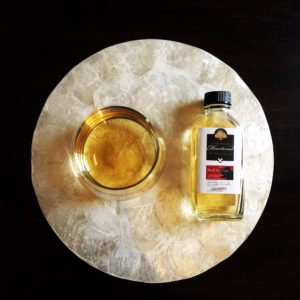 Heartwood Devil May Care. Tasmania, Australia. ABV: 67.1%. Tasted at home, $70 (100mL bottle split from the International Beer Shop in Perth).
Colour: Disarmingly golden.
Nose: Rose water, strawberry marshmallows and raspberry tarts. Not too much of a nose prickle, despite the high ABV.
Palate: Sea salt, flame grilled steak notes too. Fresh raspberries – it's got some berry notes, but quite tart. Like sucking on a lemon Fruit Tingle and feeling it buzz on the tip of your tongue.
Finish: Sweet smoked paprika and a touch of turmeric. Looooong fade, some meaty saltiness (think salty biltong) with the tastebuds getting all excited by the tingle of flavours and a satisfying warmth.
Comments: A real savoury beast in the finish. Unlike other recent Heartwood releases, where independent Tim Duckett has gone a little mad scientist (in the true Heartwood way) with all manner of blending and syrupisation (I made that word up) of the whisky, the Heartwood Devil May Care is a 14 year old single malt. Cask strength of course. And yes, I finished all 100mL in one sitting. It's bloody delicious.
Heartwood whiskies truly are in a class of their own – in style, quality and innovative creation. Long may you continue to produce such gems, Mr H.