by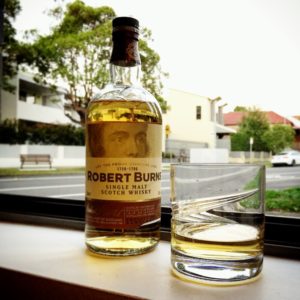 The Arran Robert Burns Single Malt. Isle of Arran, Scotland. ABV: 43%. Tasted at home, $75 (bottle).
Colour: Pale straw.
Nose: Much like the colour – soft, hay-like notes.
Palate: Quite thin on the palate with a dry mouthfeel. Gentle honey to start and then some bigger malty flavours.
Finish: Soft pepper and fresh white bread. Some faint flavours of sweet lemon and pineapple jellies in the fade.
Comments: A simple, no nonsense whisky. What you see (or taste) is what you get. It's not overly complex, which is good if you're trying to analyse it whilst being distracted…say by chatting to a cute girl on Tinder. Hi Kyla! 😉
It's a little different to what we've come to expect from an Arran whisky – it doesn't have a heap of the light, floral, tropical fruit flavours that many other Arran whiskies are known for. But it's still a very pleasant, easy-drinking whisky all the same.