by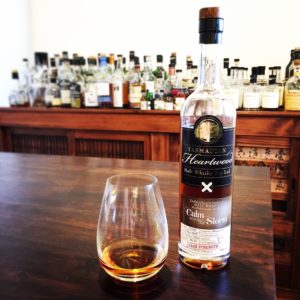 Heartwood Calm Before the Storm. Tasmania, Australia. ABV: 66.4%. Tasted at home, $285 (bottle).
Heartwood are one of the most innovative independent bottlers out there in the world of whisky. For the Heartwood Calm Before the Storm, they've sourced new make originated from Lark Distillery, matured it in a first fill Australian Oloroso sherry cask, and then had a load of fun placing it around Heartwood HQ in positions with the greatest temperature fluctuation. And what a creature they've created…
Colour: Glowing copper.
Nose: Fresh sultanas, golden syrup, blackcurrant jelly and cabernet paste. Geez that sounds a bit wanky, but damn it I could sniff this all day – it just keeps revealing more and more layers. Cigar box, burnt butter caramel and a slight nose prickle at the end to warn you that this dram packs a punch.
Palate: Intense honeycomb, raspberry sherbet and some dark chocolate. The sweet notes are balanced out by some amazing char-grilled steak flavours. A full mouthfeel, yet with a surprisingly gentle warmth given the 66.4%ABV.
Finish: Blackcurrant pastilles, sweet smokey beef jerky. A long, tantalising finish.
Comments: Stunning.
This is the drink you pour yourself when you get home after you've had a stressful, fucked off day at work and you need to have a balls-out whisky to get you out of your funk and make you feel alive. It's like being kicked in the head by a stray boot of someone crowd-surfing at a gig – it's a jolt to the system, it gives you a buzz, and yet you've got this crazy grin on your face from the energy of the moment. I'd had one of these days and was playing Rage Against The Machine's "Killing in the Name" on the way home from work just to get some of the stress out. Having just received this Heartwood in the mail, I thought it fitting to crack it open. Lots of parallels…don't stick to the script, be unconventional. Apt given the Heartwood approach to making whisky. In the words of Rage, fuck you I won't do what you tell me! Instant calmness.
Hats off again to Heartwood, another amazing whisky.