by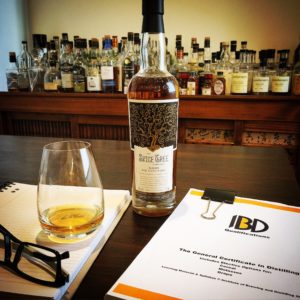 Compass Box The Spice Tree Blended Malt Scotch Whisky. Scotland. ABV: 46%. Tasted at home, $80 (bottle).
A Sunday afternoon study session with a dram in hand…so I can legitimately say that I'm "studying" whisky! Following on from Friday's Adelphi Glenborrodale 8 Year Old Blended Malt, I thought I'd continue the theme with another blended malt – the Compass Box The Spice Tree Blended Malt.
Colour: Golden honey.
Nose: It's fresh and zesty, light and a little bit sweet. Makes me think of a lemon tart with icing sugar dusted on top.
Palate: Soft pepper and honey. Freshly toasted white bread. A touch of cinnamon.
Finish: A salty orange tang and fresh oaky notes. Medium length.
Comments: I should study more often. This was a great drop! Cracking value too.
A vatting of Highland single malts (principally Clynelish), the focus of The Spice Tree is on the maturation.  The original Spice Tree release ran into some dramas with the Scotch Whisky Association, who didn't approve of Compass Box's unconventional approach to the oak they had used in the casks it was matured in. In this remake, Compass Box has taken a bit of a mixed bag of casks, but geez it works.  From the rear label: "Primary maturation in a mix of first-fill and refill American oak. Secondary maturation in new-headed casks made of heavy-toasted new French oak from 195 year-old Vosges forests."
It's hard to describe, but for me this one just drinks more like a single malt. The Adelphi Glenborrodale seemed to have a few different dimensions, almost a split personality – though each of those personalities were a pleasure to get to know as they revealed themselves. Whereas the Compass Box The Spice Tree seems to have all the malts pulling in the same direction, in harmony with one another.