by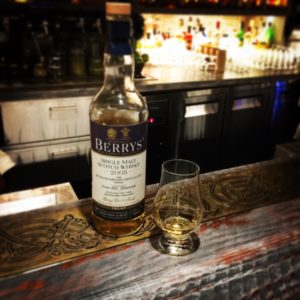 Berrys' 2005 Single Malt From Bunnahabhain Distillery (Drawn from Cask Ref. 9000058). Islay, Scotland. ABV: 56.9%. Tasted at Mjølner, $23.
Mjølner is a new Viking whisky bar here in Sydney.
Viking. Whisky. Bar. Absolute genius.
An awesome array of whiskies behind the bar and a great basement fitout, can't wait to come back and pillage and plunder some more liquid gold.
Colour: Bright lustrous gold.
Nose: Soft smoke, honey on slightly burnt toast, creamy pink marshmallows.
Palate: Oaky, smoky and…oki dokey. A light burst of salted caramel down the middle of your tongue, then a gentle warmth that slowly builds in your mouth.
Finish: A long gentle smoky fade; dusty blueberry without the sweetness.
Comments: Bunnahabhain's official distillery releases are typically unpeated, so a peated independent bottling from Berrys' was worth a try.
It's a nice whisky, but quite straightforward and gentle in all aspects – nose, palate and finish. Nothing too outlandish or bold; a little beige. I found myself searching for ways to describe it, looking for depth when it wasn't there. The smokiness is the dominant flavour, but it's not overpowering like some (typically younger) Islay whiskies.