by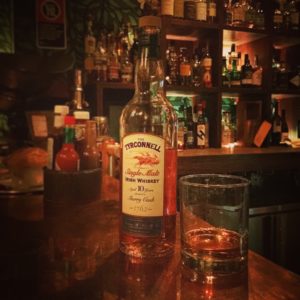 Tyrconnell Sherry Cask 10 Year Old Single Malt Irish Whiskey. Riverstown, Dundalk, Ireland. ABV: 46%. Tasted at The Wild Rover, $21. Or in this case, $42 for a double!
Colour: Deep candlelit amber.
Nose: Buttery caramel notes. Blackberry jam.
Palate: Salted caramel and raspberry flavours swirl on your tongue. Caramelised rendered fat from a wagyu steak. Thin on the palate, but it takes the mind to more hearty places.
Finish: Dry and oaky, sweet red berries yet almost a bit salty and tannic.
Comments: It's like a packet of fruit pastilles, but mainly the juicy red raspberry and blackberry ones. None of those dodgy lemon or orange ones, don't waste my time with those fillers! You get a salty sweet hit, a few mixed berry notes and you're left wanting to bite into some more.
In an ideal world, I would prefer to try this at cask strength – it's very tasty, but I reckon it could have been so much more if it was bottled higher than 46%ABV. Though a 46%ABV whisky really seems to be a good balance in terms of appealing to as broad a segment of the market as possible. Excise considerations will always play a part in a distillery's decision on what ABV a whisky will be bottled at. But putting that aside, for flavour reasons alone I believe it's a very good whisky, but would have been amazing at a higher ABV.