by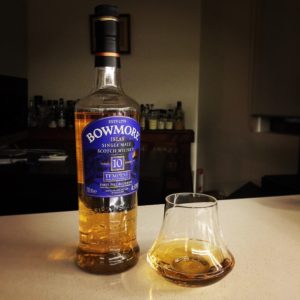 Bowmore Tempest Small Batch Release VI Cask Strength 10 Year Old Single Malt. Islay, Scotland. ABV: 54.9%. Tasted at home, $95 (bottle).
Colour: Polished brass.
Nose: Pineapple chunks and lemon sponge cake. Unobtrusive, quite soft. I'm almost searching for some smoke because I know it's a Bowmore, but it's really not there.
Palate: Sweet caramelised smokey notes hit you immediately; think barbecued pineapple slices on top of some smokey bacon. The heat builds and flavours seem to come in waves. Then again, maybe that's just my head throbbing from another battering at work all week.
Finish: Some astringent salty notes with a long, tangy finish as the flavours fade.
Comments: This is a real "Friday night after a shithouse week at work" kind of whisky, a no-nonsense kind of dram. And one with something for most palates – it's got some smoke and heat, some sweetness and tropical fruit flavours. Most importantly though, it's strong enough that one dram will take the edge off your shitty week nicely as you kick up your feet at home. Though two or three drams will do the job just that wee bit better…
I was pleasantly surprised by this one. I skeptically thought it may be a small batch release dreamt up by the Bowmore marketing department as an excuse to add another expression to the shelf. But it carves out its own niche among the Bowmore range.