by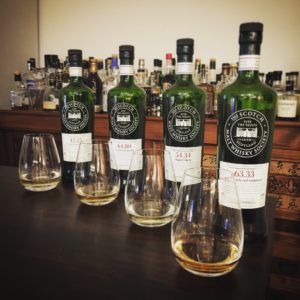 Whiskies #474-477: The Scotch Malt Whisky Society World Whisky Day Showdown.
Happy World Whisky Day to you all! It's certainly one of my favourite days on the whisky calendar…along with any Delivery Day when the whisky gods deliver their sweet nectar in the post. To celebrate this holiest of whisky days, I thought it best to crack out something fairly unique and a bit special. And what more aptly fits that description than a few bottlings from the Scotch Malt Whisky Society.
Single cask, cask strength independent bottlings…for those of you who haven't sampled a SMWS whisky before, get on it! They really are brilliant. I'm not paid by them and don't get any kickbacks to write nice things, I'm just a very happy paid-up member who thinks they're doing some amazing stuff.
Anyway, I'm thirsty – let's get into the booze!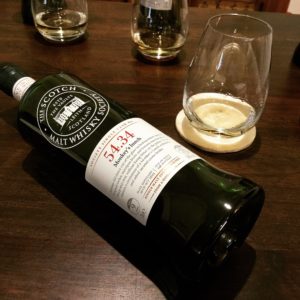 Whisky #474: SMWS 54.34 Monkey's Lunch. 9 year old Scotch Malt Whisky Society bottling from Aberlour distillery. Speyside, Scotland. ABV: 59.8%. Tasted at home, $165 (bottle).
Colour: Pale straw.
Nose: Fruit salad, soft lemon, passionfruit, strawberries and cream.
Palate: It's a wave of creamy, lemony flavours…like biting into a lemon cheesecake.
Finish: Dried pineapple chunks that fade to a drying mouthfeel with white pepper and woody notes.
Comments: The finish is quite a contrast to the nose and palate, it's a bit Jekyll and Hyde this one. Aberlour are one of my favourite distilleries so it's great to try a whisky that's quite different to their usual house style full of dried fruits and Christmas cake flavours. Cracking drop this one.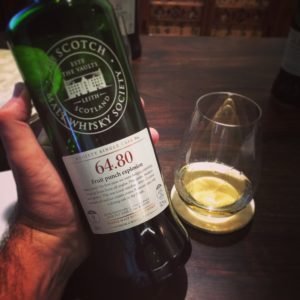 Whisky #475: SMWS 64.80 Fruit Punch Explosion. 9 year old Scotch Malt Whisky Society bottling from Mannochmore distillery. Speyside, Scotland. ABV: 58.2%. Tasted at home, $150 (bottle).
Colour: Sparkling honey.
Nose: Fruit covered pavlova. Now this is going to sound a bit odd – there's some aromas like opening up a velvet lined wooden chess set. The kind where the board is hinged and folds in half so you can keep the pieces inside. My dad had one from when he was a young fella, I still remember the smell of it as I opened it to set up the pieces and have a few games with the old man when I was younger. The old bugger always beat me!
Palate: Fresh raw honey straight from the hive, served on a wooden stick…sweet and oaky.
Finish: Almost a few candied bacon flavours in the fade, like you've poured maple syrup over pancakes with crispy bacon on the side.
Comments: I love a whisky that triggers memories from long ago, whether they be from the aromas or the flavours. Stunning.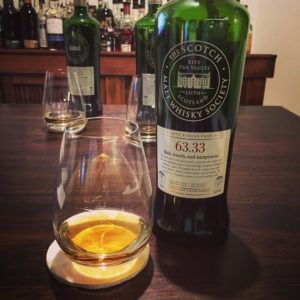 Whisky #476: SMWS 63.33 Rich,Treacly, and Sumptuous. 9 year old Scotch Malt Whisky Society bottling from Glentauchers distillery. Speyside, Scotland. ABV: . Tasted at home, $185 (bottle).
Colour: Bright toffee.
Nose: Golden syrup, treacle and freshly baked blueberry muffins. A slight nose prickle.
Palate: Buttery and lots more golden syrup. If I had to do a blind tasting and pick the distillery I would have said Glendronach. The SMWS title really has summed it up perfectly – it is incredibly rich, treacly and sumptuous.
Finish: Front of the palate gets all the fun – plenty of salted caramel. A long tingly finish, like crushing some brown sugar crystals against the roof of your mouth with your tongue.
Comments: As I sip this one I'm listening to Nina Simone singing "I Put a Spell On You". Kind of like tasting cask strength whiskies when you're doing healthy pours – by the time you get to the third whisky it's starting to put a spell on you. But without a doubt, this is the standout whisky of the night. Amazing stuff.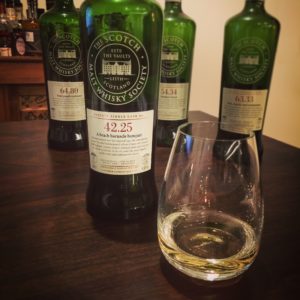 Whisky #477: SMWS 42.25 A Beach Barnacle Banquet. 9 year old Scotch Malt Whisky Society bottling from Tobermory distillery. Isle of Mull, Scotland. ABV: 60.4%. Tasted at home, $165 (bottle).
Colour: Pale apple juice.
Nose: Salty; hessian sacks soaked in sea water.
Palate: Surprisingly smooth and sweet. Reminds me of grilled salmon nigiri, the one with some kind of glaze on it that they've smashed with a blow torch to give those amazing caramelised salmon flavours.
Finish: A long salty tang at the front of the palate, especially when you press your tongue up into the roof of your mouth.
Comments: A perfect conclusion to the Speyside sweetness we've had before. Great balance between salty, sweet and savoury.
There's just something about the SMWS whiskies that makes me think of all kinds of foods and flavours. They're always so vivid and take your mind and your tastebuds on a wild gastronomic journey. I'm not known for doing things by half measures (some of my friends would say I do things by double measure), but with whisky this good it's probably not my penchant for smashed avocado and coffee that's preventing me getting into this insane Sydney property market. Bugger it, I might just pour another dram of each of these…happy World Whisky Day!