by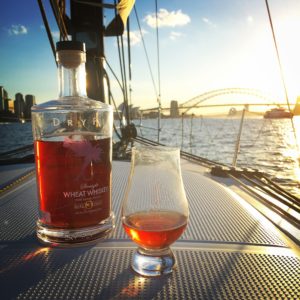 Dry Fly Port Barrel Finish 3 Year Old Straight Wheat Whiskey. Spokane, Washington, United States. ABV: 45%. Tasted on Sydney Harbour, $115 (bottle).
Colour: Molten copper. Simply stunning colour.
Nose: Fresh, like walking through a forest and snapping a green tree branch. Toffee and dried raisin notes too.
Palate: Brown sugar on top of a hot bowl of porridge. A bit grassy too – like chewing on a fresh sprig of green grass.
Finish: Creme caramel with a drying biscuity finish. Short to medium length.
Comments: Sailing is one of my other passions, so after a stunning day racing on Sydney Harbour I thought it appropriate to celebrate our 2nd place result by cracking a whiskey that was produced from across the opposite side of the Pacific. Hailing from Washington state in the United States, Dry Fly are turning out some great straight wheat whiskies which I've only recently discovered. As is the Dry Fly ethos with sourcing ingredients, this expression is finished in locally sourced port barrels from Townshend Cellar Winery in Spokane, Washington. Surprising, a little bit different, but most definitely recommended. A dash of water makes it even more drinkable.