by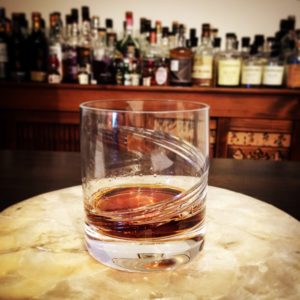 GlenDronach 1990 Single Cask 24 Year Old Single Malt (Cask No.1020). Highlands, Scotland. ABV: 53.8%.
What kind of whisky do you have when you're trying to have a self-imposed booze ban for the week? This kind of whisky.
Colour: Dark, rich treacle.
Nose: Caramelised pork hock. Buttery burnt sugar, musty bookshelves. I love that smell.
Palate: Oh it's smooth…caramel sauce over vanilla ice cream. Warm pudding. It's basically a dessert…sticky date pudding in a glass.
Finish: Blackberry jellies. More caramel oozing over the tastebuds as you sit back and let the sweet sugary notes fade as some soft woody notes emerge. Like sucking on the ice cream stick after you've devoured the ice-cream, you're craving more and can't believe it's finished so quickly.
Comments: Matured in a Pedro Ximenez sherry puncheon, cask strength…this is phenomenal. I am trying to not have too much to drink this week as I'm competing in a powerlifting competition this Saturday for which I've been training the last 10 months. So if I was going to break the self-imposed pre-competition booze ban it had better be for a damn good whisky. This one fits the bill perfectly! Stunning.