by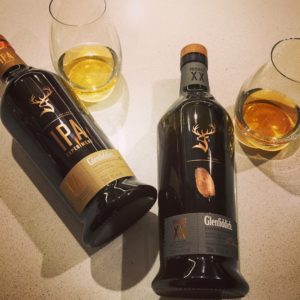 Well after a brutal week where I'd been kicked in the arse by a virus of some description, now that I'm back to 100% it's time to get back into some whisky. My adage has always been a Whisky a Day keeps the doctor away…clearly I haven't been having enough! So to really put this bug away I'd better have two whiskies…let's dig into two experimental single malts from Glenfiddich and try them side by side to see what the fuss is all about.
Whisky #484: Glenfiddich IPA Experiment Single Malt. Speyside, Scotland. ABV: 43%. Tasted at home, $130 (bottle).
Colour: Rich gold.
Nose: Fresh lemon tarts, orange sweet jellies. Freshly snapped branches when you're walking through the bush.
Palate: Sweet lemon and sherbet notes with a tingle on the lips and the tip of the tongue.
Finish: A zesty tang, oaky and slightly drying.
Comments: Finished in beer casks that previously held India Pale Ale from the Speyside Craft Brewery. It's light, it's direct and pretty refreshing, but for me it doesn't scale to any great heights. It's a very good whisky, but not outstanding – perhaps having read so much about it my expectations were too high?
Whisky #485: Glenfiddich Project XX Single Malt. Speyside, Scotland. ABV: 47%. Tasted at home, $140 (bottle).
Colour: Light copper.
Nose: Strawberries and cream. Soft oak.
Palate: Continuing the soft jellies fruits theme, this one is more like biting into a raspberry one – it's sweet, juicy and almost a bit syrupy. An amazing soft mouthfeel.
Finish: Dried raspberries tingle on the front of the tongue…like the sweet yet kinda salty taste when you suck on a Redskins lolly.
Comments: This one was so good I had to pour another glass to finish the review. Edit: make that pour another two glasses. It took me to places that the Glenfiddich IPA Experiment just didn't – and not just because I've had a few drams by now. An outstanding drop. Glenfiddich's twenty global brand ambassadors (hence the "XX") each selected a cask from the Glenfiddich warehouses which were then vatted together to form this exciting and amazing dram. When I first read of the project I thought it might be a case of too many amazing flavours and styles of whisky being combined into a melange of diminishing returns, but wow I was surprised – this is one fantastic drop.