by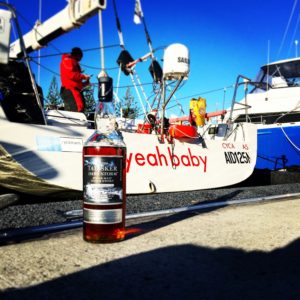 Talisker Dark Storm Single Malt. Isle of Skye, Scotland. ABV: 45.8%. Tasted on the dock at the Southport Yacht Club.
Having just completed the Sydney to Gold Coast Yacht Race, one of my crew mates Ola brought a bottle of smuggled contraband up on deck as we crossed the finish line at dawn. A perfect time for a celebratory whisky!
Colour: Like a morning sunrise. Fuck it, I don't care if that sounds like a cliche – it's dawn, we've just finished a 3 day yacht race, and the whisky we've just cracked as we arrive at the dock is as welcome a sight as the morning light!
Nose: Charcoal and blueberries. My skipper Lindsay got slight buttery notes and freshly cut lawn. Not the first time he's cut another man's grass…
Palate: Smokey brown sugar flavours. Quite a bit of heat as it slides around your mouth and down your chest. Almost a medicinal, menthol tingle on the front of the tongue. Lindsay got sunflower seeds.
Finish: Salt and pepper heat, medium length. Some warm honey notes to fade.
Comments: Lots of spice and rich dark sugary flavours, a fair bit of heat too. A real warming whisky when you've been chilled to the bone sailing offshore for the past 3 days. Sailors typically drink a lot of rum, but I'm gradually  to convincing my crew to embrace a Whisky a Day!