by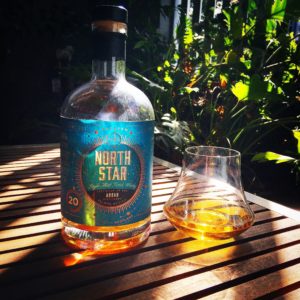 North Star Arran 20 Year Old Single Malt. Isle of Arran, Scotland. ABV: 51.9%. Tasted at home, $251 (bottle).
Colour: Brilliant topaz.
Nose: Freshly sawn timber, pine needles and freshly baked lemon tarts dusted with icing sugar. All very light and delicate though, there's nothing too overpowering…just a subtle invitation to take a sip.
Palate: Burnt orange marmalade on a fresh croissant…all tart, citrusy, buttery and very moreish. Quite malty too, much more so than most Arran expressions I've had before.
Finish: Like biting into some orange and lemon fruit pastilles – juicy, chewy and lots of sweet citrus flavours. A light peppery finish too.
Comments: North Star are a relatively new player in the independent bottler game. Bottled at cask strength and drawn from a single cask, this 20 year old Arran was distilled in August 1996. Given the Arran Distillery only opened in 1995 this is one of the oldest expressions of Arran malt that you're likely to find.
It's much maltier and a different kind of fruitiness to most other Arran malts…more citrus than tropical fruits. Recommended, though for the price it's not exactly a daily drinker.