by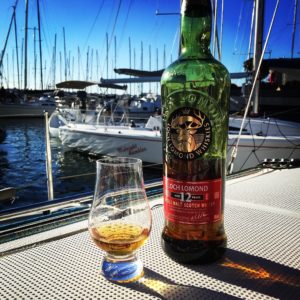 Loch Lomond 12 Year Old Single Malt. Highlands, Scotland. ABV: 46%. Tasted on a glorious winter's afternoon on Sydney Harbour, $115 (bottle).
Colour: Glistening gold.
Nose: Dried pineapple chunks; a spoonful of honey stirred into some English Breakfast tea.
Palate: Honeycomb and creamy caramel oakiness – like sucking on the stick from a caramel Paddle Pop ice cream.
Finish: Short to medium length, but don't let that put you off – there's plenty to enjoy here. Soft oak, a hint of sweet gentle smoke and some buttery ginger nut biscuit flavours in the fade.
Comments: This Loch Lomond 12 Year Old was matured in three types of American oak casks – bourbon casks, refill casks and recharred casks. It's fantastically subtle yet has boatloads of flavour too…it really is a whisky you can drink all afternoon in the sunshine.