by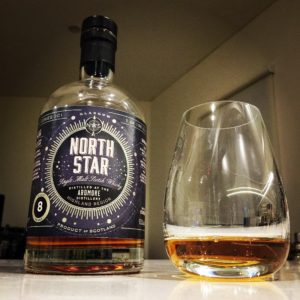 North Star Ardmore 8 Year Old 2008 Single Cask. Highlands, Scotland. ABV: 57.1%. Tasted at home, $215 (bottle).
What type of whisky soothes a broken heart? We've all been there – the breakups that leave you with an all-consuming sea of emotions. Emptiness, confusion, and a sadness that physically hurts and makes you feel ill.
But when your best friend breaks up with you, what whisky do you turn to to numb the pain? To make you feel something, to distract you from the thousand questions and "what ifs" racing through your mind?
For me it has to be something robust – both in depth of flavour and with a high ABV. Something cask strength. Preferably a single cask (terrible pun; my sense of humour has really dried up).
A whisky that has plenty of character and isn't too delicate – as the mind races in a thousand different directions thinking about the breakup, you want to enjoy the whisky without thinking about it too much. A whisky that doesn't demand too much attention, yet with enough complexity so that you can take your mind off everything and just focus on the dram in front of you, if you so choose.
So I settled on the North Star Ardmore 8 Year Old 2008 Single Cask, which ticks all of those boxes perfectly.
Colour: Rich toffee.
Nose: Black jelly beans; a sniff of camp fire charcoal when you wake up the next morning and stick your head out of the tent.
Palate: Salty seaweed, char-grilled maple bacon, tart blueberries and sweet smoke.
Finish: Savoury and salty, soft smokey notes too. Like some caramelised onions cooked on a BBQ.
Comments: There's no such thing as the perfect relationship, just as there's no such thing as the perfect whisky. We shouldn't be blinded by an endless search for perfection when there may be something amazing sitting right in front of you.
The North Star Ardmore 8 Year Old 2008 Single Cask isn't the perfect whisky, but it's pretty bloody amazing.