by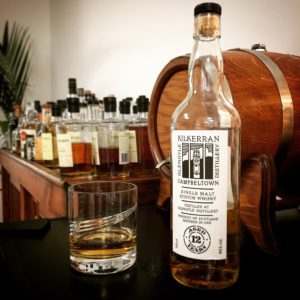 Kilkerran 12 Year Old Single Malt. Campbeltown, Scotland. ABV: 46%. Tasted at home, $99 (bottle).
Colour: A golden glow.
Nose: Like sticking your nose into a glass of creaming soda, some bubbles tickle your nostrils as you inhale some creamy, sweet aromas. A few soft, faint smokey notes too.
Palate: Sucking on a hard, buttery toffee. Freshly baked biscuits, the kind that are all buttery, still warm, soft and chewy as you take a bite, yet with the odd biscuit that has a touch of smokiness where the edge has been slightly overcooked. Ridiculously easy to sip.
Finish: The toffee cracks – creme brûlée, salted caramel, and an oaky smokiness on the tongue as the flavours slip away.
Comments: I've always said that it's hard to be cheeky smart arse about a whisky you're really enjoying. My somewhat serious tasting notes tell a story then.
When I first tried this Kilkerran 12, I wasn't overly sold on it – there had been a lot of hype and expectation surrounding its release and I just couldn't quite see what all the fuss was about. Fast forward a few months, and I'd almost finished the bottle – so I'd better review the damn thing! The surprising thing was how it really approaches you rather than the other way around – you're reaching for a top-up because, a) with each sip you're effortlessly sliding back like you're reclining into a hammock, and b) it's really damn tasty. Sweet, buttery and flavoursome, it really is almost food-like. Lots to enjoy here.