by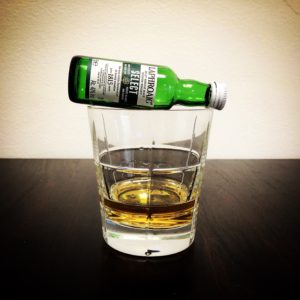 Laphroaig Select Single Malt. Islay, Scotland. ABV: 40%. Tasted at home, $13 (50mL miniature).
Life is all about balance…
Colour: Brass that needs a bit of a polish.
Nose: Sweet leathery peat, soft oak and a handful of malted barley.
Palate: You know how you see polar bears at zoos given an ice treat, usually a block of ice with some tasty morsel on the inside that will keep them occupied for a period of time? That's what drinking the Laproaig Select is like. It feels a little watered down and frustrating to get to the heart of the matter. It has a stronger smokey peat than the nose; some grassy notes and smoked honey too.
Finish: Fresh woody notes and cool smoke; quite a long fade.
Comments: Created from whisky matured in a "selection" of different cask types typically used across the Laphroaig range (hence the name), the Laphroaig Select also throws a spanner amongst the pigeons by utilising some virgin American oak casks (the type bourbon has to be matured in). With this mind, I was expecting some more dominant oak and vanilla notes.
There's enough flavourful hints to keep you interested but fuck me it's frustrating to drink. The 40% ABV takes me back to my school days, reminds me of when you gone around to your best mate's place and his mum's poured you a glass of cordial and it's been watered down much more than you're used to. I like the flavour, just crank it up a few notches!